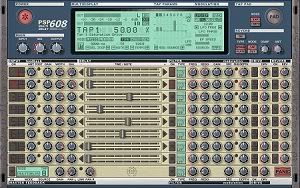 PSPaudioware PSP 608 MultiDelay v1.6.1 AU VST RTAS AAX WiN & OSX
WiN: 16.6MB | OSX: 20MB
PSP 608 MD is perhaps the most fully featured delay plug-in available on the
market
(VST, AudioUnit, RTAS and AAX format for
Mac OSX
Universal Binary and VST, AAX and RTAS format
for Windows
). We have striven to offer you a creative tool that is not only functional, but inspiring. Each tap has selectable feedback, stereo image and position, delay time, multimode filter, modulation, drive/tape saturation, and reverb. Moreover, the feedback and drive can be placed at the beginning or end of the signal chain for even more sound design options! The modulation section consists of both an LFO and Envelope follower, and the tape saturation algorithm is taken from our renowned mastering processors. And of course all this can be done at any bit depth and
sample
rate up to 24-bit, 192kHz, and be fully automated via MIDI and any host sequencer.
Features:
Up to 8 seconds of delay time per channel
Continuous control over the delay time in milliseconds and/or chosen quantize note
Three operation modes: Multidelay, in which each tap has its own feedback buffer; Multitap, in which the Master Feedback operates on one (user selectable) tap; and MultiFB, where switches the tap off not switch the feedback signal off
Each tap included independent adjustment of the following: gain, stereo field width and balance, delay time, filtering, modulation, saturation simulation and reverberation
Each tap can choose between multiple quadruple biquadratic filter types, including: Low Pass, Band Pass, High Pass, PEAK filter and four Shelf filters
Modulation section (LFO and envelope follower) offer adjustable modulation depth of 3 octaves, and can be selected for filter cutoff
Tape saturation simulation with adjustable gain based on the algorithm used in our mastering processors
Filtering module in feedback includes LP, BP, HP filter (either State Variable Filter or Biquad) with adjustable cutoff and resonance
Vintage reverberation module for faithful simulation of spring and plate reverbs
Support for sample rates of up to 192kHz
Host and MIDI automation of all processing
Changelog v1.6.1:BUGFIXES:
1. The "Post" toggle in the feedback area won't save status. Fixed
2. OSX: When the plugin window is open Pro Tools system is EXTREMELY sluggish. Fixed.
3. OSX: GUI issues with both the VST and AU versions (Live 8). Fixed.
4. Windows: AAX no showing in PT 10.0.1. Fixed.
OTHER:
1. Default knobemode chanched to linearmode.
ABOUT
DOWNLOAD:
PSPaudioware.PSP.608.MultiDelay.v1.6.1.VST.RTAS.AAX.x86.x64-iNDFilePost.Com = High Speeds
http://filepost.com/files/43f13c82/
Extabit.Com
http://extabit.com/file/27av4kbvpdh6q/
Uploaded.To
http://ul.to/87zhegln/
PSPaudioware.PSP.608.MultiDelay.v1.6.1.AU.VST.RTAS.AAX.MAC.OSX-iNDFilePost.Com = High Speeds
http://filepost.com/files/ecf1e35d/
Extabit.Com
http://extabit.com/file/27av4kbvpde42/
Uploaded.To
http://ul.to/xy6fo391/